Koala.sh AI Writer Review: Will It Replace Jasper.ai?
Afew months ago, I first heard about a new AI writing tool called Koala.sh. I mean, everyday we wake up knowing that there will be yet another AI startup joining the ranks, and this one was not different.
I have been using Jasper for almost two years, and I'm content with it. I have a grandfathered plan which is quite expensive. So naturally, I didn't think I would like to try a new AI writing tool. At least, not another paid plan.
Fast forward to over a week ago, I was struggling with content creation. My content writing business has been suffering from a lack of time and effort. I tried to hire a content writer to help me create content using Jasper.ai, but still, it didn't turn out as I expected.
So after reading several reviews from big names like Anne Moss from Yeys.com or Jon Dykstra from Fatstacks and then Mike from Stupid Simple SEO, I decided to give Koala.sh a try. I didn't have any high expectation, to be honest!
I first tried the 5,000 word free trial from Koala.sh and I was pretty impressed with the output. Then I upgraded to the $9 plan and tried it on a few pieces of long-form blog posts. The results were truly impressive. I quickly upgraded to the $49 plan and ended up creating over 30 articles in two days.
As you can see, I liked Koala.sh a lot. But if you're still unsure whether it's a god investment, especially if you're already using Jasper.ai or any other AI writing tool, I'll help you decide!
Koala.sh AI Writer and Chatbot
Koala.sh AI Writer is a machine learning-based tool which helps you create SEO-friendly articles in no time. It's a combination of both AI writer tool and a chatbot in a ChatGPT style, so it's quite straight-forward.
My first impression was that Koala.sh seems like a simplified version of Jasper.ai and other AI writer tools out there when it only has three types of articles: blog post, Amazon product roundup, and YouTube video to blog post.
Compared to over 50 types of templates offered by Jasper.ai, this might be a bit of a drawback to some writers and content creators, including me, who are used to using more variety.
But on the other hand, Koala.sh is cheaper and more user-friendly than any other AI writing tool out there that I've ever tried. At some point on this journey, I personally think: the less, the better!
It comes with different pricing plan, starting from just $9 all the way up to $2,000 and even more. So, let's say if you're planning to write 10 blog posts per month, you can go for the $9 plan and it will cost you just less than $1 per post.
Aside from that, Koala.sh also has a chatbot feature which allows you to easily create automated conversations with your customers and potential clients. However, based on my own experience, I've found that ChatGPT has done a way way way better job than Koala Chat.
Plus, ChatGPT is entirely free while you only have 250 message per month with Koala's $9 plan. The more you pay, the more messages you'll get. That's a little bit weird for me since ChatGPT is free, but I still think Koala.sh's chatbot feature is useful if you don't want switch back and forth between two platforms.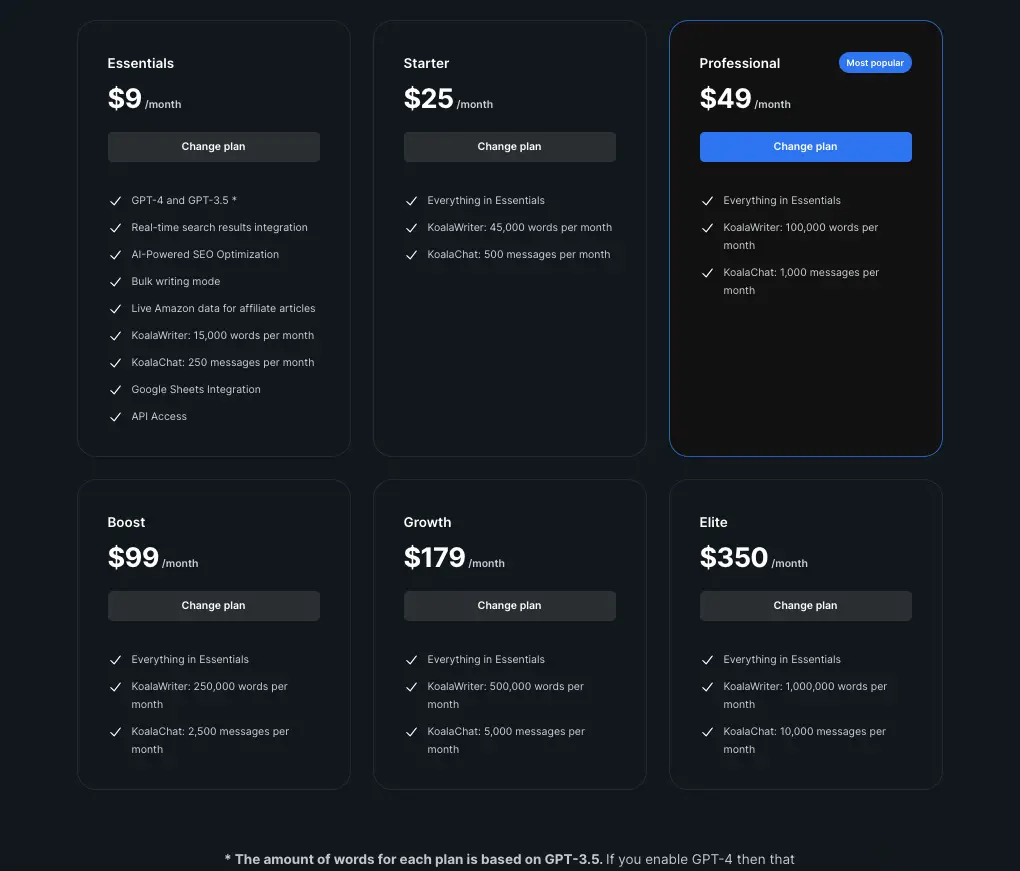 Koala.sh AI Writer vs. Jasper.ai
Unless you live under a rock, you've probably heard of Jasper.ai. It's one of the most popular AI writing tools out there and it has been around for quite some time.
Unlike Koala.sh, Jasper is more expensive and offers more templates than any other AI writing tool on the market right now. But here's what I like about Koala: it's incredibly user-friendly.
Now, if you're reading this article all the way to this point, you may want to see a comparison between Jasper and Koala. Well, here's a quick one:
Pricing Plans
Koala's basic plan starts at just $9 per month (Essentials plan) while Jasper.ai starts at $39 per month (Creator plan). The plus side of Jasper.ai is that even with the cheapest option, it comes with unlimited words, while Koala.sh limits the number of words you can create per month in any of its plans.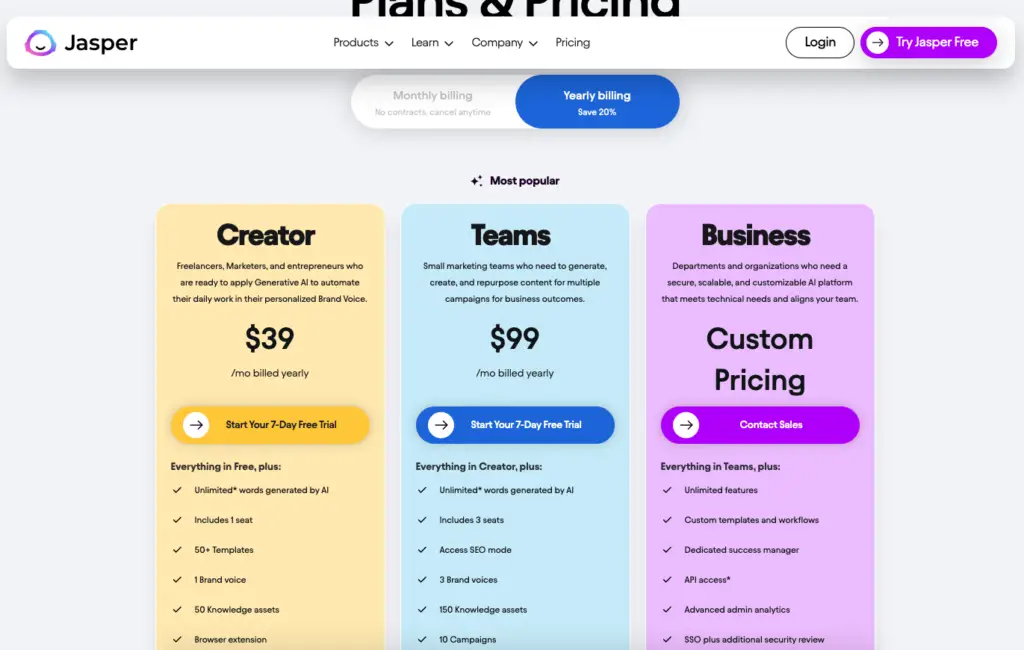 Currently, I'm on the Teams plan at Jasper.ai which costs $99 per month and comes with four seats for me and my team of my VA, my AI content specialist (who has been replaced by Koala!), and my content editor.
Yes, you just read that right — my AI content specialist has been replaced by Koala.sh!
Koala.sh: 1 — Jasper.ai: 0
Key Features
Koala.sh comes with three types of articles templates — blog post, Amazon product round up, and YouTube video to blog post — while Jasper offers over 50 types of templates.
In terms of features, Jasper is better than Koala in most aspects. And as a MarCom specialist, I'm using almost all of those templates on a daily basis. I have marketing campaigns to draft, blog posts to write, sales pages to create — you get the idea.
Also, my VA uses Jasper to create her weekly newsletters, SoMe posts, Pinterest pins, etc. and her blog post. She's been using Jasper for more than a year now, and she loves it! and I'm more than happy with the results.
Jasper.ai also has a wide range of features like Surfer SEO or Plagiarism checker and even Grammarly to improve the quality of your content. These are all notable features you won't get with Koala.sh, at least for now.
But for everyday blogging purposes, I must admit that Koala.sh is more than enough for me and it's easier to use. Plus, I can easily generate bulk content with one single click. Gosh, the Bulk Mode of Koala.sh is seriously a game changer!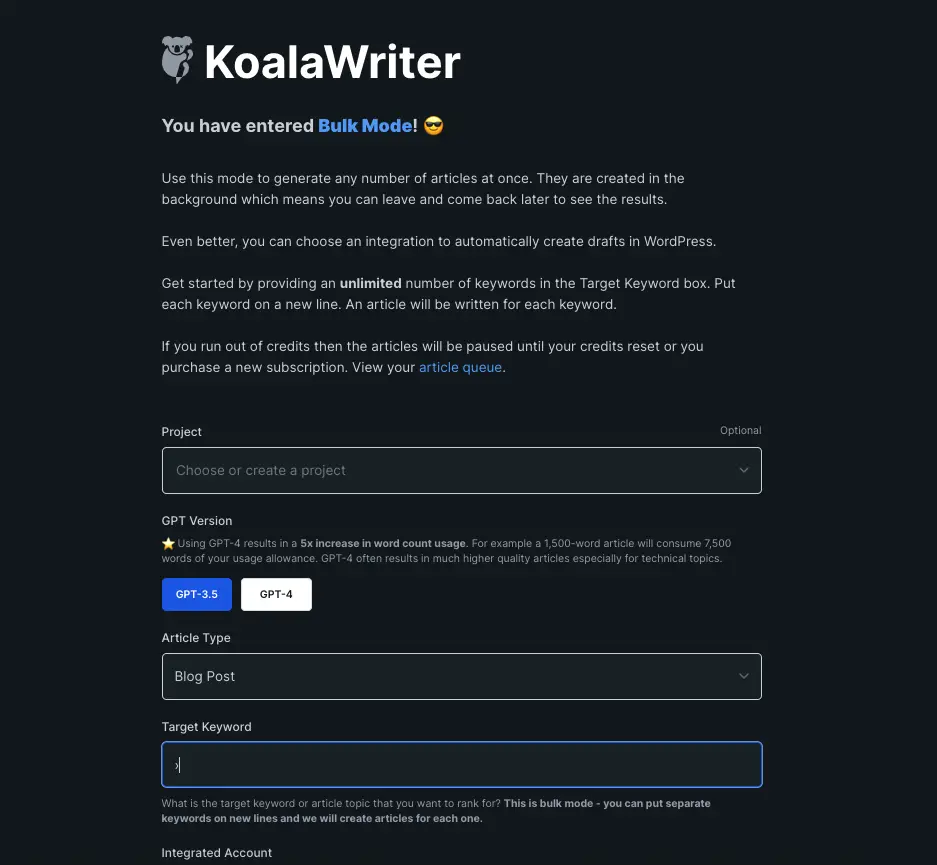 The last time I tried, it created 23 long-form articles for me in the background while I took a shower before getting back to my desk! When I came back, I already have 23 high-quality articles put in a neat folder waiting for me or my editor to proofread and tweak it a bit before hitting the Publish button.
Then, this quickly came into my mind: It doesn't matter how many templates or features you have in your AI writing tool, if you can't create content quickly and easily. Koala.sh has proven itself to be more than enough for me!
Koala.sh: 1 — Jasper.ai: 1
User-friendly Interface
This is where Koala.sh takes the lead! It's incredibly easy to use and navigate compared to Jasper.ai which can be a bit overwhelming at times. The platform has a straight-forward, minimalist design, so even if you're a newbie in AI writing tools, you won't be lost.
Jasper.ai's UI is not bad, to be fair. However, compared to how it was a year ago, the current version is way too complicated and it takes a lot of time to get used to. Also, even in a team settings, you have to share your writing to the rest of the team, otherwise they cannot access it. I just found it so frustrated and strange!
Of course, it has some nice features, for example the dropdown option to check if an article is still a draft, in progress, or published. If you work in a team like me, this is incredibly handy.
Koala.sh: 1 — Jasper.ai: 0
Quality of Writing
I think this point is important, since the main point of using AI writing tools is to create content faster and better without sacrificing the quality. Yet they still have to sound like human-written and require as minimum proofreading as possible.
Personally, I'm still not 100% convinced with the quality of writing created by Koala's AI. However, I'm extremely impressed with the output from its AI writing engine even though it's a lot simpler than Jasper.ai or any other AI writing tool out there.
If you create one single blog post, you can tweak the outline and write a few sentences yourself to improve the article. It won't take too much time if you're a pro. Plus, you can always adjust the settings of Koala's AI writing engine to make it generate more content with more variety in terms of words and expressions.
One downside of Koala.sh AI Writer is that it doesn't allow you to interfere with the flow of the article. Thus, if you want to make changes or edit a certain paragraph, you have to wait until the AI Writer finishes generating the entire article first.
In contrast, Jasper.ai allows you to make changes in real-time when the AI writing engine is busy filling out the gaps. You can even delete some paragraphs and tweak it if necessary without stopping the AI Writer from doing its job.
For some people, they prefer editing after the AI has done its job because they don't want to interfere with the flow of the article. However, I think it's really great having Jasper.ai allows me to do that — it makes proofreading and editing much easier for me!
The quality of Jasper.ai, therefore, is better than Koala.sh AI Writer — especially if you follow the writing process that I described above. The output is much more refined and ready-to-publish compared to the one generated by Koala's AI Writer.
However, on the other hand, if you rely on the autopilot mode of Koala.sh, it actually writes better content. Jasper.ai fails to keep up with Koala in terms of speed and quality of output.
Koala.sh: 1 — Jasper.ai: 1
Overall performance: Koala.sh: 4 — Jasper.ai: 2
The Final Verdict
So, which one is the winner? Well, it really depends on what you're looking for in an AI writing tool and what type of content you need.
Overall, I think both Jasper.ai and Koala.sh offers great benefits for those who are looking for an AI writing tool.
As a MarCom specialist working in a big travel company how also has a side hustle, I find Jasper.ai to be the better option because it offers more features and templates for me to use on my daily job and side projects.
However, if you're someone who just wants a simple AI writing tool that can generate bulk content quickly with minimum effort, then Koala.sh is definitely the way to go! Plus, its subscription fee of $9 per month is just unbeatable!
But since the title of this article is to wonder whether Koala.sh will replace Jasper.ai as my go-to AI writing tool, I must say that it won't — at least not anytime soon. In my opinion, they both offer different benefits for different kinds of users and purposes.
However, here is my plan for the next few months:
Starting from next month, I'll upgrade my Koala.sh AI Writer monthly plan to the Elite one and start relying on it more for bulk content generation. That plan is priced at $350 per month with 1,000,000 words and 10,000 messages per month.
It fits the different needs of my side hustle perfectly without exceeding my budget. It is actually less than what I paid for my previous human writer, yet it takes shorter time to generate more long-form content with higher quality.
For my daily job, I'll keep using Jasper.ai for now — with the occasional help from Koala's Bulk Mode if I'm really in a rush to generate content quickly and easily. However, I'll downgrade my plan to the Creator plan as it fits my needs better and is cheaper than the Teams plan.
My VA and content editor will switch gear to ChatGPT instead. I mean, it's (still) free and it has better than expected output. Actually, I think I've cracked the way to use it as a keyword research tool! Now, it's my first choice whenever I need to quickly come up with a list fast-ranking keywords.
In other words, Koala.sh isn't about to replace Jasper.ai as my go-to AI writing tool anytime soon. However, it has proven itself to be more than enough for me! I'm really excited and confident to keep using them both in the upcoming months!
Benefits of Using Multiple AI Writing Tools
I'm a firm believer of the saying, "the best camera is the one that you have with you" — in this case, it means using the best AI writing tool is the one that fits your needs and produces what you need.
That was the reason why I didn't want to try out any other AI writing tool after deciding to go with Jasper.ai. Until one day, Koala.sh appeared in my inbox.
It gave me a new perspective on how AI writing tools can be used for different purposes and it opened my eyes to the potential of using multiple AI writing tools!
Using multiple AI writing tools has certainly proven to be beneficial for me, as I'm able to take advantage of each of their strengths while creating content quickly and easily.
Plus, it also saves me time and effort in finding the most suitable content creation tool for my needs. I'm no longer stuck with a single AI writing tool. Instead, I can use any of them depending on the task that I'm doing.
Personally, having these two tools is like having super power. Koala.sh is great for quickly generating bulk content while Jasper.ai is better for creating engaging and high-quality content that can be used in multiple ways.
And, if I'm not really happy with what Koala.sh wrote, I can always copy and paste the content into Jasper.ai to tweak it, add more personal touch, and make it better. That's one of the things that I love using multiple AI writing tools — they can be used in combination with each other to create amazing content quickly and easily.
How about AI Detector?
I have to admit that I used to worry a lot about article plagiarism when I was using AI writing engines. With the raise of many AI-generated content detection platforms like Originality.ai and the concern whether Google or other search engines will penalize my websites if I use AI written articles, I was always quite cautious when it comes to using AI writers.
But then, eventually, I changed my mind about AI detector. I just think this way: Does it really matter if an article is written by human or by AI, as long as it provides value to the readers, is properly proofread and edited, and is up to the standard of my websites?
I think, that should be more than enough. And the truth is, I found some great articles written by AI writers on different websites, and they do provide value to the readers. So why not give it a try?
I have a portfolio of 10-ish blogs where I have a combination of human-written and AI written content. I'm using both Koala.sh and Jasper.ai for my blog posts, and I haven't had any issue so far with Google.
In fact, sites using AI content rank faster than sites with human-written content! My best guess is that since I can pump out content much faster and more consistently with AI writers, Google might have detected that my websites are updated frequently and reward me for being consistent.
However, it doesn't mean that I will completely stop using human content writers, or that I recommend you to do the same. After all, it's really important to maintain both quality and consistency in content creation.
So I guess it comes down to how you manage your content creation process. Each blogging team has its own strategy and workflow to optimize their websites for better ranking and user experience — AI writers can be a great help when used properly!
The Conclusion
I'm sure there are plenty of other AI content tools out there that can help you with your SEO-optimized content creation needs, and maybe there is even a tool that can do exactly what I'm doing right now with these two tools.
If you happen to know of one, please do share it with me in the comments below! I'd love to try it out and see how it can help me with my content production needs as well. Until then, I'm sticking with both Jasper.ai and Koala.sh for now.