When I first heard about the term "virtual assistant" during 2017 – 2019, I actually thought it was something like a chatbot technology, or at least, like the dear "Siri" on our Apple devices. Alas, I was so wrong, and I didn't know that until the pandemic hit the world and I lost my job in early 2020.
When I was wandering around the internet (read: Upwork and Fiverr), I stumbled across a few job postings for virtual assistants.
As soon as I realized that this was legit and had nothing to do with technology (again, still had the chatbot idea in mind) I started to research more about it.
Long story short, while I cannot see myself becoming a VA anytime soon—rather the other way around—I have seen firsthand how this line of work can be incredibly lucrative and especially perfect for moms with kids.
When I hired my first VA in 2021, I was a bit unsure whether she could meet my needs at that time with a toddler at home.
But five months in, I can tell you that not only was her performance great, but she was also able to juggle her homework help (for the kid) and my needs with remarkable finesse.
And of course, I was not her one and only client. She served other clients at the same time and she was able to manage her time very well, at least from what I could observe.
So, if you're a stay-at-home mom looking for an online job and wondering if being a VA can really make you $10,000 per month (yes, it can!), here is what you can expect being a VA and why it is a great fit for you.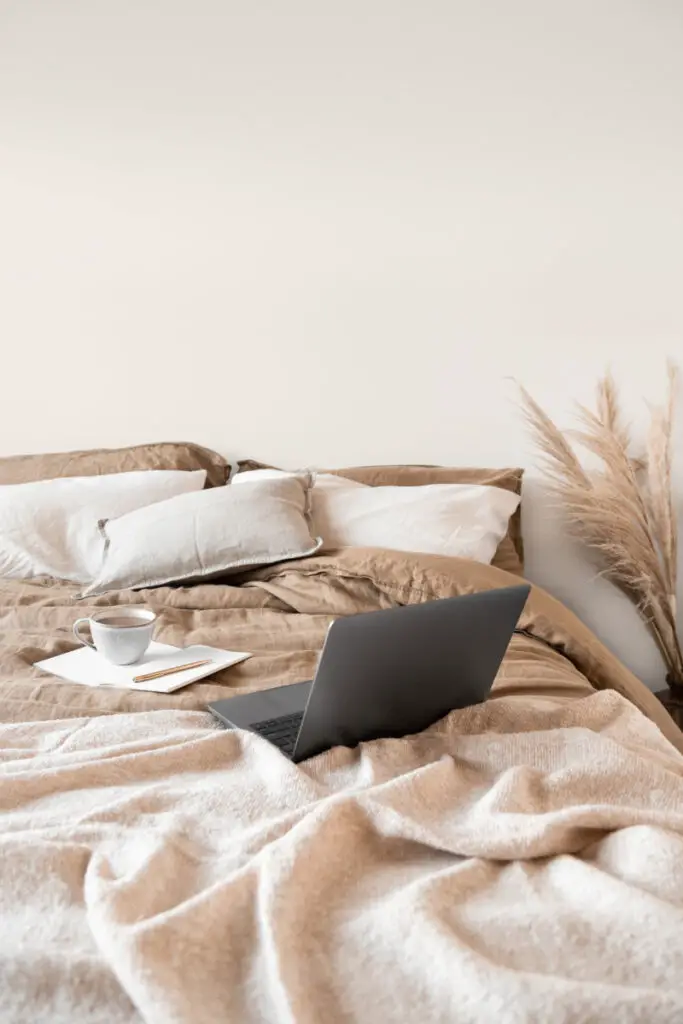 What Is a Virtual Assistant?
Don't let the word "virtual" fool you like it did with me. Virtual assistant, or VA for short, has nothing to do with technology.
It is an administrative professional who provides services remotely, usually to other businesses or entrepreneurs.
These services can include anything from taking care of customer service requests (in the form of emails and/or phone calls) to helping out with online marketing tasks like content creation – blogs, social media posts, website updates etc., to bookkeeping and data entry tasks.
The possibilities are almost limitless and can depend on the skill set of each virtual assistant.
While the services can be different from business to business and from person to person, a virtual assistant is NOT a personal assistant.
That means that the VA will not pick up your groceries, book your next vacation, or do any chore that requires physical presence.
What they will do, however, is provide you with administrative support in the most productive way possible.
That can be a lifesaver for busy small business owners who want to make money but don't have enough hours in the day to take care of everything.
For those reasons, being a virtual assistant is the perfect job for stay-at-home moms who have experience in the administrative profession and don't want to limit their earning potential within the constraints of a 9-5 office role. Plus, you can do it with your little one(s) next to you and manage your time as needed.
So, why should you become a virtual assistant? Let's see 10 great reasons:
1. You Can Work from Home
The biggest advantage of being a virtual assistant is that you can work from home (or anywhere you want)—as long as you have a stable internet connection, of course.
That means there's no need to leave the house and take care of your children while also trying to make money with an online job.
For moms who can only work very early in the morning, late at time, or any thirty minutes in between all the, this is a great freedom to have.
You set your own working time, take breaks when you need too, and in general be a lot more productive than if you were to leave the house.
Whether you opt for hourly-based projects or monthly retainer agreements, the flexibility is simply unbeatable.
Many clients (or at least people I know) will expect you to be available during standard working hours, but if something comes up and you do need to take a break, they won't mind as long as you communicate your needs and meet deadlines.
Other people (including me) will even not care about hours if the work is being done. So, self-discipline is key here.
2. You Can Choose the Type of Work You Do
As aforementioned, virtual assistant services may vary depending on the person you work with. For example, my VA's tasks are mainly WordPress related, as this is where my business needs the most help.
But for other people, it can be anything from email handling and scheduling appointments to content creation and social media management.
The great thing about being a VA is that you can choose the type of work that fits your skillset, experience, and interests without having to take on anything else.
This way, you can focus on one area of expertise rather than trying to juggle several different tasks at the same time.
Plus, you can always learn new skills that may be beneficial to your online job, such as basic coding or Photoshop. These are usually easy to grasp and don't require a lot of time investment.
3. You can Charge Your Worth
When you become a virtual assistant, you can charge your worth and price yourself accordingly depending on the service you are offering and the value it brings to your clients.
Whether that is hourly or per project basis or monthly retainer agreements, make sure you know what market rates look like for each type of service and come up with a pricing that makes sense for both parties.
Some services and skill will require you to charge more (such as coding, working with clients' emails or their website) while others can be priced a bit lower (such as scheduling appointments, data entry, etc.).
The goal is to make sure you are getting paid what you deserve and that your client is satisfied with the service they receive.
A side reminder: Don't be discourage by low-ball offers. I know, there're a lot of "VAs" offering their services for as low as $5 – $10 per hour, but the truth is that these rates are unsustainable and won't provide you with enough income to make a living.
Also, consider the fact that they may come from countries where the cost of living is lower than in your country. So, whatever you do, don't let anyone pressure you into charging less than what you're worth.
4. You Can Choose Your Clients
You know what I like best in the world of freelancing? You can choose your clients—your "boss" in a way.
And as a virtual assistant, it cannot be more true. You don't have to work with anyone you don't feel like working with, and even better, you can choose the clients that match your interests.
I know as a WAHM, the last thing you want is to spend your working hours with someone you don't enjoy.
If you are specialized in a certain field, such as web design, WordPress customization, or social media management—to name a few—you can focus on finding and working with clients who need these services specifically.
This will ensure you're working with the right people and that you can provide them with the best value.
By choosing your clients, you are also setting yourself up for more success. And who doesn't want to be successful?
Working with people who understand your skill set, appreciate your services, and are willing to pay a fair price for them is a win-win situation that can help you create a successful online business.
5. No Degree Required
While you may need some certification along the way, let's say, if you opt to offer bookkeeping services, for the most part you don't need a college degree or any kind of qualification in order to become a VA and thrive in the online job market. What you need is enthusiasm, a few skills, and a lot of commitment.
However, in the long term, you may want to consider some online courses or coaching that can help you stand out from the rest and add value to your services.
If you totally have no idea about the job, what to expect, how to get started, etc., don't worry.
There are plenty of free or paid resources available to help you out and get the answers you need. That's where online courses come in and help you brush up your skills.
Eventually, you may to scale up your business to the point where you need to outsource some of the tasks and find subcontractors.
When that time comes, you'll be glad to have a few certificates on your portfolio as it will give you an edge over other competitors.
6. No Experience Needed
In the same vein, you don't need any prior experience to become a VA. You can start from scratch and learn as you go.
Of course, if you have some previous experience in bookkeeping, web development, or customer service, that can be helpful but not mandatory.
The fact is that you can learn everything that's necessary to become an efficient and valuable virtual assistant.
One of my VAs was an English teacher before becoming a VA. She had no prior experience in web design or coding and she never worked as a freelancer before, yet she managed to learn the skills necessary and become quite successful.
Of course, in the beginning, there will be a learning curve, but the good news is that you can learn on the job.
Another thing—with today's technology, it's easier than ever to find all the info you need and build your skill set.
So, if you're willing to put in the time and effort, there's really nothing stopping you from becoming a VA. You just have to get started.
7. The Demand Is High
Take a look at places like Upwork or Fiverr or any similar platforms and you'll see that the demand for virtual assistants is higher than ever.
Every day new clients post jobs, looking specifically for experienced and reliable VAs to help them with various tasks such as customer support, writing, project management, etc.
The reasons? Well, it's obvious that a VA is more cost-effective for a small business owner or startup than hiring a full-time employee.
Virtual assistants can also provide specialized services and their flexibility makes them an ideal solution for many entrepreneurs. And with the aftermath of the pandemic, this demand has only increased.
All these factors combined create quite a few opportunities for virtual assistant professionals.
That's why now is the perfect time to start a VA business and take advantage of this ever-increasing demand.
8. Low to No Start-Up Cost
Personally, I don't see any reason why you should invest a ton of money to get started. Sure, if you want to get certified in some areas, then you'll need to invest in online courses but that's about it.
Outside of that, all you really need is a laptop and an internet connection—and those are things most people already have.
Plus, you don't need to rent an office space or buy any expensive equipment. Of course, you may need some tools like Canva or Trello to help you with your job, but they are relatively inexpensive and some may even be free, and sometimes, your clients will provide you with the tools you need so you don't even need to buy them.
Maybe, in the long run, you'd like to set up an official website to promote you & services, or invest in some marketing strategies.
But those are things you can do once your business starts to take off. Until then, focus on building a solid portfolio and getting clients through word of mouth and recommendations.
Oh, and talking about setting up a website, in fact, it won't cost you more than $200, including a hosting plan for at least a year, a domain, and a premium theme—and you'll be able to do all these yourself.
9. Potential to Scale Up
Scaling is when you take your business to a higher level, usually by increasing its size and taking it beyond one-on-one client work. And yes, you can certainly do that as a VA.
For example, once you become an expert in a certain area or niche, like social media management or graphic design, you can start creating products such as online courses or ebooks, or you can offer VA packages that include multiple services.
Or you can collaborate with other VAs in the same area and start offering different services as a team.
Another option is to launch your own virtual assistant business and hire other assistants to help you manage more clients. All these are great ways to expand your business and make more money.
Although I'm not an expert in this, I suggest you do some research and find out what other VAs are doing in order to take their business to the next level.
This way, you'll have a clear vision of how you want to grow your VA business, and what you need to do in order to make it happen.
10. You Can Create a Work-Life Balance
This is probably the most important reason why becoming a VA can be perfect for moms. As I said before, you decide when and where you want to work, which gives you much more flexibility than other jobs. You'll be able to spend more time with your family while still getting a decent income.
Plus, if you have young kids at home, there's no need to look for childcare. You can work while they sleep or play by your side and you'll never miss out on their childhood moments ever again!
Last but not least, with the rise of digital nomads and remote workers, you can always take advantage of that and travel with your family while still having an income. That's something you can't do in traditional jobs!
So, Is a VA Business Your Thing?
As I just mentioned in the beginning of this article, although I found that VA was interesting and I eventually did some deeper research, it wasn't a good fit for me.
I'm more of a person who likes to write and be creative, and virtual assistant jobs don't really provide that kind of platform. But if you think this is something you would enjoy, then go for it!
But if you read this article and found yourself saying "Yes! That's exactly what I want to do!", then great news: being a VA can be an amazing experience for many people, especially moms who want to take control of their career while still having time for their family.
Indeed, it's one of the most popular and lucrative side hustles stay-at-home moms will opt for since the rising of the gig economy.
So, if you think you have what it takes to become a successful virtual assistant, don't wait any longer—start researching and make your dream come true! You won't regret it. Good luck!