In the last few years, blogging and content marketing have become the buzzwords of the digital marketing world. With more and more businesses turning to websites and blogs to establish their presence and reach out to potential customers, the demand for skilled blog managers has grown exponentially.
A blog manager is someone who takes care of all the tasks related to running and managing a successful blog, such as developing content strategies, researching topics, creating posts, scheduling posts, editing and proofreading, publishing content, and promoting it through social media channels. Interestingly, more and more businesses are recognizing the importance of having a blog manager to help manage their content strategy. Besides a marketing manager or a content manager, a blog manager has become an extremely important part of a business's digital marketing team.
If you're looking to get into this growing field of online work then becoming a blog manager may be right up your alley! So, ready to learn more about the role and how to become a blog manager? Let's get started!
A Step-by-Step Guide to Become a Blog Manager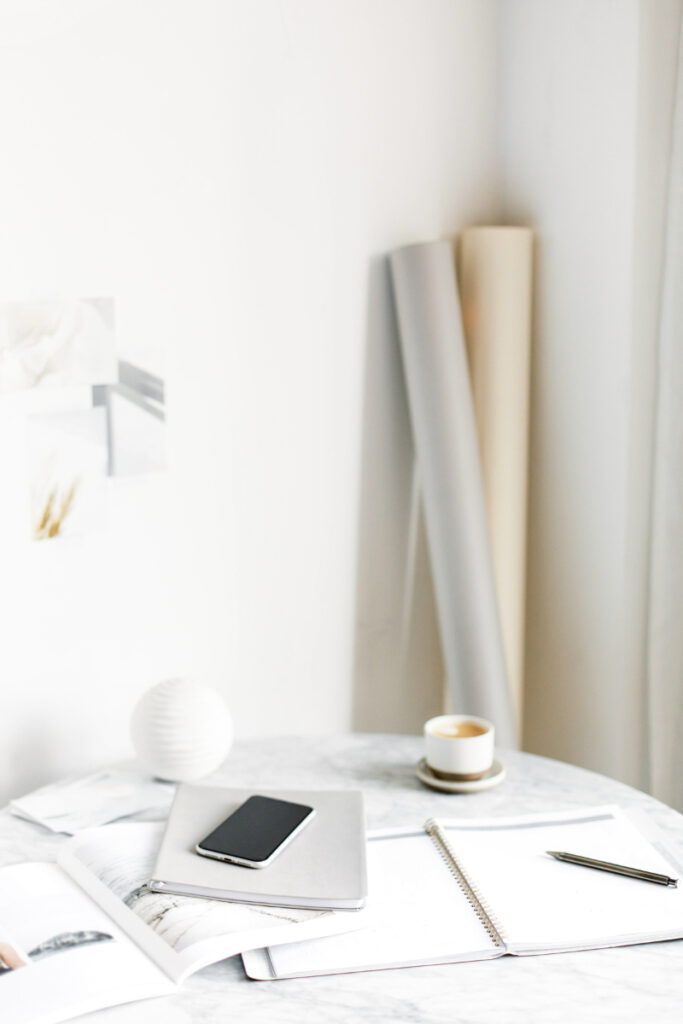 What Is A Blog Manager?
Essentially, a blog manager is responsible for the entire process of running and managing a blog, both technically and strategically, to ensure that the blog is successful and produces desired results. This means that a blog manager must be familiar with content marketing strategy, search engine optimization (SEO), web design, online content writing, analytics, copywriting, and social media marketing.
A blog manager will have to handle content strategy, content generation, and website management (both technical and content-related matters). Depending on the size and scope of the blog, a blog manager might also be in charge of managing other writers and editors, managing projects, developing content plans, and providing oversight for other content-related tasks.
Role of A Blog Manager
Depending on the JD, the clients' needs, as well as the blog managers' own services, the tasks can vary greatly. At its core, a blog manager's duties include these following daily tasks.
1. Developing Content Strategy & Content Calendars
A blog manager will need to research topics, come up with new ideas, and create comprehensive blog content strategies that can be implemented over time. This includes researching the target audience, researching keywords and SEO best practices, creating an editorial calendar, and preparing the blog for launch.
Another task that a blog manager will typically be in charge of is creating content calendars. This involves scheduling out the posts that need to be published and managing deadlines for both themselves and other writers. For example, a content calendar might include a weekly post schedule, monthly feature articles, or other content types such as videos and podcasts. It should also include seasonal content, promotions, and any other content that needs to be promoted during specific times throughout the year (Thanksgiving, Christmas, etc).
2. Presenting Ideas and Projects to Clients
A blog manager should also be comfortable presenting their ideas and projects to clients, stakeholders, and other team members. This involves writing up content proposals with suitable topics and detailed plans, and outlining the tasks that need to be completed in order to accomplish them.
It's important for a blog manager to understand how their content fits into an overall marketing strategy and be able to explain this effectively. The blog manager should also be able to provide clear and timely updates on the progress of their projects, and be prepared for any potential changes or issues that may arise.
3. Managing & Publishing Content Creation
A blog manager is not necessarily the one who writes the content, but they must be able to provide guidance and direction for others writing on their behalf and they must be able to write when needed.
Normally, once the content strategy is in place, the blog manager will need to either work with internal content writers or liaise with freelance bloggers to create the content. Sometimes, graphic designers are also involved in creating the visuals for each post. The whole process will involve providing instructions, editing and proofreading the content, sourcing images, formatting blog posts for publishing, scheduling posts to go live at a predetermined time, as well as managing other tasks related to content curation.
If the content plan includes guest posts, blog manager will also be in charge of acquiring articles, handling negotiations with authors, and ensuring that all content is up to standard and align with the brand's vision.
4. Monitoring the Promotion & Performance
A blog manager is responsible for monitoring the performance of the blog's content and ensuring that it meets their goals. In bigger organizations, the promotion of the blog content may be handled by someone else, for example, a Social Media Manager or a Digital Marketing Specialist, but a good blog manager should be familiar with the basics of how to promote content on social media platforms, as well as understanding analytics and metrics. At the end of the day, it is still a responsibility of the blog manager to ensure that their content is reaching its intended audience.
This includes creating an effective content promotion strategy, monitoring website traffic and other performance metrics such as page views, social media engagement, and other forms of interactions that the blog's content receives. A blog manager should also be able to use this data to adjust their content strategy as needed.
5. Performing Technical Tasks
Lastly, a blog manager should also be comfortable performing technical tasks related to the website on a regular basis. This could include ensuring that all plugins are updated, checking for broken links or other issues with the content, and troubleshooting any technical problems that may arise.
Although more complicated tasks may be out of the scope for a blog manager, they should have a basic understanding of how websites work and be able to troubleshoot any issues that arise. A basic understanding of HTML and CSS will also be beneficial for blog managers who need to make small changes or adjustments to their site.
By taking on these duties, blog managers can ensure that their blogs are running efficiently and smoothly and that their content is reaching its intended audience.
Requirements and Qualification to Become a Blog Manager
In general, to become a successful blog manager, you must have great writing skills, excellent organizational abilities, and an eye for detail. Additionally, you should also be comfortable with analytics and metrics so that you can track the performance of your content.
If you are working in an organization or an agency, you may need to have some prior experience in digital marketing or web design. Although it is not essential, having a few years of experience in these areas can help you create a more comprehensive content strategy and better understand the technical aspects of managing a blog.
If you are working with larger clients or companies, they may require you to have certain qualifications, such as at least a bachelor's degree in Marketing, Digital Marketing, Communications or Journalism.
Qualifications
Although not essential, having qualifications in digital marketing or communications can help you stand out from other applicants and make you more attractive to potential employers. If you don't have a degree, there are a variety of online courses and certifications that you can take to demonstrate your knowledge and make yourself more attractive to employers.
Additionally, having some experience in social media management and search engines optimization (SEO) can also be beneficial if you want to become a blog manager. An understanding of SEO will help you ensure that your content is more likely to be found by the intended audience, and social media management will help you reach a larger audience through different channels.
Hard Skills
In terms of hard skills, a blog manager should have excellent writing and editing capabilities as well as an understanding of SEO best practices. Additionally, they should be comfortable with popular Content Management Systems, such as WordPress or Squarespace, and have a basic understanding of HTML and CSS in order to make small adjustments. These are all the basic hard skills that are necessary for a blog manager to be successful.
Moreover, it is important for blog managers to understand the fundamentals of digital marketing, analytics, and metrics so that they can measure the performance of their content, adjust their strategy as needed, and ensure that it is reaching its intended audience.
Soft Skills
Talking about soft skills, a successful blog manager should also be creative, organized, and able to work under pressure. They should possess excellent communication and leadership skills as they will need to collaborate with other team members such as Social Media Manager, SEO Specialist, or freelance writer on a daily basis.
As well, strong problem-solving abilities are essential for this role as sometimes blog managers may have to come up with solutions to problems that arise related to the website, which can be anything from a technical issue to a content strategy problem and everything in between.
When it comes to project management skills, blog managers should have the ability to prioritize tasks and manage their workload efficiently in order to meet deadlines. Also, they should know the core principles of product management — the ability to develop, manage, and deliver projects on time and on budget.
Do You See Yourself A Successful Blog Manager?
If you think that being a blog manager is the right career path for you, then make sure to have the following qualities and experiences under your belt:
You're already a blogger
Being a blogger yourself is a huge plus, as you already have an understanding of what it takes to create quality web content and build a loyal following. You know the ins and outs of blogging, and you understand the importance of SEO, social media, and content marketing. Having your own WordPress blog can also give you a great starting point to explore the technical side of blog management.
You have a passion for writing
Writing is the core of any successful blog, so having a passion for writing is essential for any blog manager. You should be able to write compelling copy that engages readers and encourages them to take action or visit other parts of the website.
You are tech savvy
Being comfortable with HTML and CSS is a must, as you will need to make small tweaks and adjustments to the website. Additionally, having knowledge of WordPress or Squarespace or any other popular CMS can be helpful.
You understand how a business works
You should be familiar with the basics of running a business, including marketing, customer service, and sales. This will help you create content that is aligned with the company's goals and objectives. You then have a better understanding of the needs and challenges that businesses face on a day to day basis, thus giving you an edge when creating content.
You have an eye for design and details
Having a basic design background is also essential, as you will need to create graphics and pages that look aesthetically pleasing and follow the brand's guidelines. Of course, content is still king but if you come across a beautiful website with good user experience blog design, chances are you'll stick around and read more.
You have strong communication skills
Being a successful blog manager requires strong interpersonal skills. You will need to communicate with the company, editors, writers, and other stakeholders on a regular basis. Having excellent communication skills ensures that everyone is on the same page and all tasks are completed in a timely manner.
If you think that you have all of the qualities listed above, then you may want to consider becoming a blog manager! It's no better time than now to start — the demand for blog managers is on the rise and with it comes plenty of opportunity out there.
How Much Do Blog Managers Earn?
According to Glassdoor, blog managers in the United States can earn anywhere from $46,000 to $70,000 per year, with the possibility to earn up to $86,000 per year, depending on experience and qualifications.
For freelance blog managers, the pay can be even higher, as you are able to set your own rates and decide how much you'd like to charge for services.
So if you think you have what it takes to become a successful blog manager, now is the time to start exploring this career path! You can either apply for a job at an established company or even start your own blog management business.
How to Become a Blog Manager
The tradition way is, of course, to apply for a job at an established company. You can find open positions either online or through your network of contacts. However, the down side to this approach is that the competition can be quite high, so you must make sure that your portfolio and CV stand out from the rest.
Alternatively, if you're more inclined to be an entrepreneur, you can start your own blog management business as a freelancer. All you need is the right skill set (as mentioned above) and some determination and hard work. You can start off small, by connecting with smaller businesses who may be in need of your services, and slowly grow your business over time.
Set up your agency
If you're serious about starting a blog management business, it's best to set up your own agency. This will enable you to offer more services and have more control over the projects you work on. If you're living in the States, a simple LLC (Limited Liability Company) should suffice for setting up your own business. Make sure that you do your research and understand the legal requirements before diving in.
Create a website for your business
You simply cannot run a successful blog management business without having your own website. It's important to create an online presence for potential clients to find you and learn more about your services. You should also make sure that you have a portfolio of projects that you've worked on, as this will help convince prospective customers of your expertise.
In your website, make it simple to navigate around and contact you. You must also add an "About" page to give customers a bit of background information about you and your experience. Lastly, make sure that your website is optimized for search engines, as this will help with visibility and in turn, generate more leads.
Create your offers and prices
Depending on your experiences and qualifications, you can offer different services to clients. This can include anything from blog setup and design to content creation and optimization, or a whole package including everything they need.
Make sure to craft your services in a manner that will appeal to potential customers and help them understand what you can do for them. Still, it's wise to have an option for customizable packages, so clients can add or remove services as they see fit with their specific needs. This way, you can make sure you're charging the right amount for your services while still providing value and not undercutting yourself.
When it comes to pricing your services, focus on offering value over cheap prices. This will help you stand out from the competition and attract more high-paying clients in the long run. If you're just starting out, consider offering a discount to your first few customers to get initial traction.
You can either charge by the hour or offer monthly retainer packages. The latter is often more attractive to clients as it guarantees them a certain amount of work every month, with no hassle of having to find new clients constantly. It's actually also a better deal for you since you won't have to keep hustling for new clients all the time.
Market & promote your business
Now that you've set up your blog management business, it's time to let the world know about it! Start off by posting relevant content on both your website and social media platforms like Facebook, Twitter, and Instagram. Utilize these networks to connect with potential customers and promote your services.
You can also join relevant online communities and forums to get your name out there, as well as collaborate with other bloggers who may be interested in using your services. Additionally, you should look into various online job boards such as Upwork or Freelancer to find new clients.
Word-of-mouth referrals are also a great way to get more business. Make sure you do good work for your clients and make them happy, as they can be your best source of referrals!
Earn some extra qualifications (if needed)
In the long run, if you want to be successful in the blog management business, it can be beneficial to get some extra certifications and qualifications. This will give you an edge over your competitors and help build credibility with potential customers. Consider getting certified in search engine optimization (SEO) or content marketing, as these are highly sought-after skills by many businesses and bloggers alike.
You should also look into getting certified in popular blogging platforms like WordPress or Squarespace — this will make you stand out from the competition and also give you more credibility with your customers.
Blog Manager Job Description
Here below is a basic blog manager job description template created by Betterteam.com — an online recruiting and hiring platform. In this template, they highlighted the exact job responsibilities and requirements for a blog manager role, including both the responsibilities as well as the ideal qualifications and experience.
Reading through this template will help you better understand what is expected in that role, and how to properly create your own services and pricing model. It will help you gain an overall understanding of effective blog management processes, and it will also help you create a job description for your own blog management business that appeals to potential customers.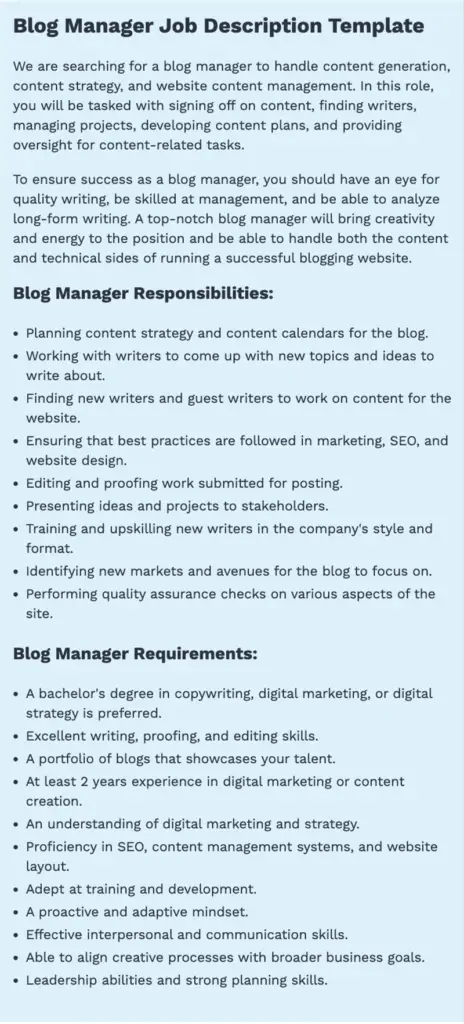 The Final Words
In the past decade, many small business owners have realized the benefits of outsourcing blog management services to a qualified professional. This can save them time and money, while giving them the confidence that their blogs are being managed by an experienced individual who knows what they're doing.
If you are a freelance blogger looking for ideas to start your online business, setting up your own blog management business can be a great way to earn extra money and start building a portfolio of satisfied customers. However, it's important that you are aware of the responsibilities that come with such a very important role — from understanding SEO techniques to making sure customer blogs stay up-to-date and in compliance with the latest regulations.
By taking the time to properly set up your own blog management business, you can help small businesses in your community get the most out of their blogging efforts and, hopefully, even reach new heights!